Welcome to McClure Construction Company, Inc.: Cobb County Remodeling Contractor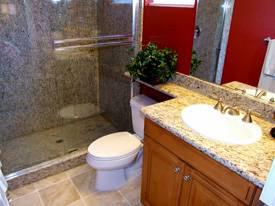 From kitchen remodeling and bathroom remodeling to new construction, room additions and more, McClure Construction Company, Inc. brings unmatched service to all aspects of remodeling and construction. We are there to help you with each step of your home remodeling or new construction project. Our Cobb County remodeling contractor offers the highest level of construction expertise and customer support to your project.
You will also find that McClure Construction Company, Inc. is a LEED certified contrator, meaning that we implement green building practices which promote energy-saving and environmentally friendly concepts.
McClure Construction Company, Inc. - Cobb County Bathroom Remodeling
Our professional remodeling contractors in Cobb County are here to turn your dream bathroom into a reality. We believe in 100% customer satisfaction and will do everything possible to ensure that your finished Cobb County bathroom remodel turns out exactly how you envisioned it. From bathroom countertop installation to complete bathroom remodels in Cobb County, our professionals provide personalized service and unsurpassed workmanship in every project that we perform.
Cobb County New Construction
When you hire our construction company in Cobb County, you'll receive individual attention from the initial design stage right through project completion. We are locally owned and operated and touted the premier remodeling and construction company in the Cobb County area. All of our construction jobs are complete on time and within budget!
New Construction
Construction
Builders
Home Building

Construction Builders
New Construction
Building Homes
General Contracting

Home Plans
Construction Management
Residential Construction
New Homes
Cobb County Kitchen Remodeling
You have probably heard of disasters happening during a remodeling project, letting alone a foremost renovation like that of a kitchen. The problems tend to be lighter and easy to handle when a kitchen is not overhauled and just being updated. Home owners who are thinking about whole kitchen remodeling in Cobb County, however, usually meet far more hardships.
Correcting problems which occur from a poor kitchen design can give several home owners a headache. There are lots of things to consider when planning about remodeling your kitchen. It is quite hard to deal with each issue before it comes up but it helps to have a few fundamental questions answered further on and general kitchen design knowledge in place. It is crucial to think of possible issues that can be encountered ahead of time to prevent them from becoming a disaster later on.
Services We Provide in Cobb County, Georgia
If you are looking for skilled construction experts in Cobb County then please call (404) 456-3888 or complete our online request form.