Bathroom Remodeling in Fulton County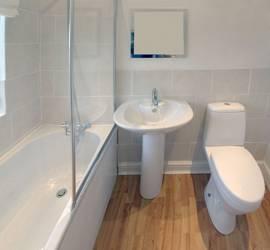 If you have a small or outdated bathroom, it can feel constricting and cramped instead of welcoming and comfortable. Fulton County bathroom remodeling can help change that. We can provide expert remodeling services that will transform even the most confined bathrooms into a modern, relaxing space for the whole family to enjoy.
There are many ways to remodel your bathroom into a stylish, functional space. It can be an easier fix than it is usually thought to be. From fixture replacement to bathroom extensions, our remodeling services can be customized to your needs, wants and budget. Our remodeling contractors can install custom tubs, Jacuzzis, showers, flooring, toilets, fixtures or countertops that incorporate modern designs and contemporary elements.
We offer bathroom designs that are innovative and function. Our bathroom remodeling services are the perfect way to revamp your outdated bathroom. Even a small enhancement can make a difference in the appearance and function of your Fulton County bathroom.
Our Fulton County Bathroom Remodeling Services
Bathroom Remodeling
Bathroom Design
Bathrooms
Flooring

Bathroom Cabinets
Bathroom Lighting
Bathroom Vanity
Bathroom Countertops

Bathroom Remodels
Bathroom Remodel Ideas
Bathroom Remodeling Plans
Bathroom Fixtures
Why Fulton County Should Hire Us for Bathroom Remodeling
Our professional remodeling contractors in Fulton County are here to turn your dream bathroom into a reality. We believe in 100% customer satisfaction and will do everything possible to ensure that your finished bathroom remodel turns out exactly how you envisioned it. From bathroom countertop installation to complete bathroom remodels, our professionals provide personalized service and unsurpassed workmanship in every project that we perform.
Recent Articles About Bathroom Remodeling
If you are looking for Bathroom Remodeling in Fulton County then please call (404) 456-3888 or complete our online request form.