Fulton County Kitchen Remodeling Experts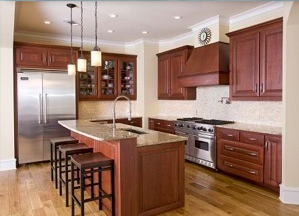 When you feel it is time to have Fulton County kitchen remodeling done in your home, you should use the services of a reputable remodeling contractor who will not only provide you with quality craftsmanship but will also stay within your budget. The professional remodeling contractors at McClure Construction Company, Inc. are competent, committed, and reliable. We will ensure that you will be getting the best service available.
Remodeling your kitchen is one of the most effective ways to refresh your home while transforming its overall feel and function. With our expert kitchen design and planning services, we can break your remodel down in phases in order to help keep your kitchen usable as much as possible.
No matter how large or small your Fulton County kitchen may be, a kitchen remodel can provide an updated kitchen that is beautiful, fully functional, and more suitable to your needs. If your current kitchen is disorganized, small, or just plain outdated, our professional kitchen remodeling contractors can improve your space, making it more welcoming for you and your family. We can provide you with the kitchen space that you have always wanted while eliminating the worry and stress that you may have been experiencing with your old, outdated kitchen.
Our Fulton County Kitchen Remodeling Services
Kitchen Remodeling
Kitchen Design
Kitchens
Flooring

Kitchen Cabinets
Kitchen Lighting
Kitchen Islands
Kitchen Countertops

Kitchen Remodels
Kitchen Remodel Ideas
Kitchen Remodeling Plans
Kitchen Fixtures
Why Fulton County Should Hire Us for Kitchen Remodeling
Our Fulton County remodeling contractors will work with you to design a custom kitchen remodel that will satisfy all of your needs. We will take the time to inform you of exactly what needs to be done before we start the next step in the remodeling process. For more information on how our professional contractors can improve your Fulton County home, contact our remodeling experts and see what we can do for your home.
Recent Articles About Kitchen Remodeling
If you are looking for Kitchen Remodeling in Fulton County then please call (404) 456-3888 or complete our online request form.